The Benefits Of Cast Iron Platen Tables
Cast iron platen tables, also known as cast iron surface plates or cast iron inspection tables, offer several benefits due to their unique material and design. These tables are commonly used in various industries, including manufacturing, machining, and quality control. Here are some of the key benefits of using cast iron platen tables:
High Stability and Rigidity: Cast iron is known for its exceptional stability and rigidity. It does not flex or deform under load, providing a solid and stable surface for various applications. This stability is crucial in precision machining and measurement tasks.
Vibration Dampening: Cast iron has excellent vibration dampening properties. It can absorb and dissipate vibrations, reducing the potential for errors in machining and measurement processes. This is especially important for achieving precise and accurate results.
Flatness and Accuracy: Cast iron platen tables are manufactured to high standards of flatness and accuracy. They are carefully machined to ensure that their surfaces are exceptionally flat, making them ideal for precision work such as metrology, quality control, and machining operations.
Durability: Cast iron is highly durable and resistant to wear and tear. It can withstand heavy use and is less susceptible to damage from impact or abrasion compared to other materials. This durability ensures a long service life for the platen table.
Resistance to Corrosion: Cast iron is naturally resistant to corrosion, which is a valuable characteristic in industrial environments where exposure to moisture or chemicals is common. This resistance helps maintain the table's accuracy and integrity over time.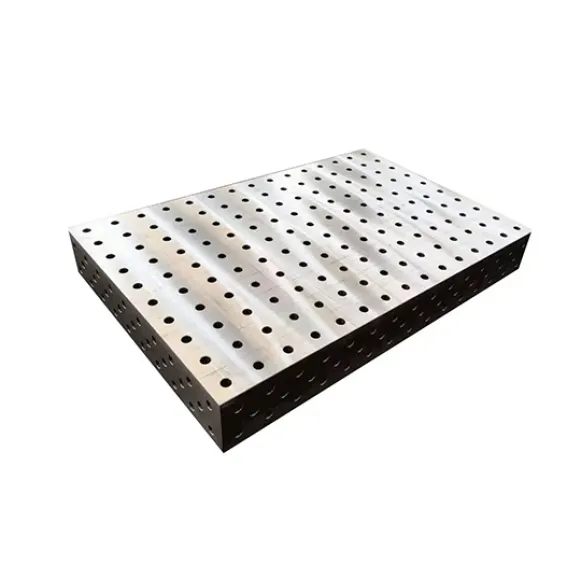 Temperature Stability: Cast iron has a relatively low coefficient of thermal expansion, meaning it expands and contracts very little with temperature changes. This property helps maintain the table's dimensional stability even in varying temperature conditions.
Versatility: Cast iron platen tables come in various sizes and configurations to suit different applications. They can be used as work surfaces for assembly, machining, and inspection, as well as reference surfaces for measuring and aligning equipment.
Easy Maintenance: Cast iron tables are relatively easy to maintain. Routine cleaning and occasional reconditioning are typically all that's required to keep the surface in optimal condition.
Customization: Many cast iron platen tables can be customized with additional features such as T-slots, threaded inserts, or special coatings to enhance their functionality and adapt them to specific applications.
Cost-Effective: While cast iron platen tables may have a higher upfront cost compared to some alternatives, their long lifespan, stability, and accuracy make them a cost-effective choice over the long term.
In summary, cast iron welding tables offer a range of benefits, including high stability, precision, durability, and resistance to environmental factors. These characteristics make them indispensable tools in industries where accuracy and reliability are essential, such as machining, quality control, and metrology.